Rochefort Air Base 721, created in 1931, is a historic Air Force site. In 1980 the new buildings were inaugurated, designed by the architect Pierre André DUFETEL. The buildings are classified as historical monuments.
We took up a technical challenge that was all the more difficult as the architectural constraints due to the classification of the building are extremely strict and require that the equipment is perfectly integrated into the frame.
In 2008, Validex installed a conveying solution in the dishwashing area, comprising a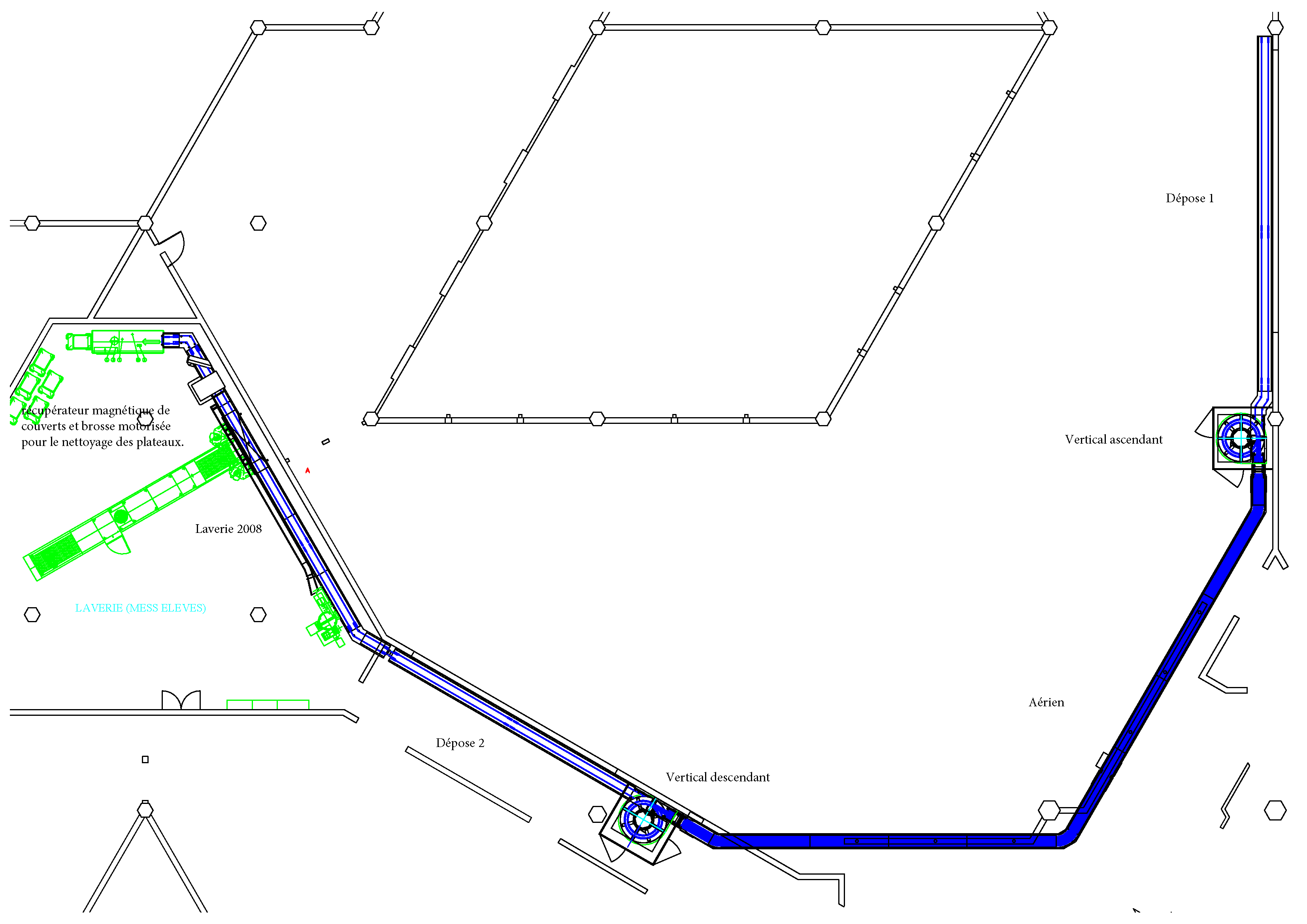 polycord, a waste chute, a magnetic cutelry collector and a motorized brush for cleaning the trays.
In 2020, Validex designed an installation for the same Air Base comprising:
– A conveyor for depositing meal trays in the first mess area (military name of the restaurant/canteen),
– A vertical ascending-type conveyor transporting the trays to an aerial conveyor,
– An aerial conveyor that crosses the room over 24m,
– A vertical descending-type conveyor which brings the trays back to the level of the second mess area,
– A conveyor for depositing the meal trays in the second mess area, the whole being connected to the 2008 Validex installation.
Since Validex exists, the Air Force has trusted us for its locations in Salon de Provence, Dijon, Cambrai, Evreux, Villacoublay, Marignane, Creil, Saint Dizier, Orange, Luxeuil, Paris, Mont de Marsan, Cazaux, Orleans, Istres, Solenzara, Metz, Colmar, Toul, Dakar (Senegal), N'Djamena (Tchad), Gillot ( La Réunion), Djibouti, Rennes, Ambérieu, Châteaudun, Bourges, Cognac, Saintes, Taverny, Lyon Mont Verdun, Brétigny…, as did many army bases and navy bases and ships.