Examples
Sushis Rabat Marocco
The issue: design a sushi conveyor placed on a live fish tank.
Validex's Solution: A made to measure sushi conveyor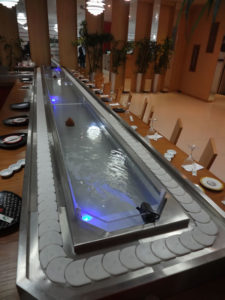 Shangri-La Elath Israël
The issue: to install a food waste treatment system in an already complex wash area.
Validex's Solution: tailor-made biotec waste treatment, with total adaptation to existing configuration and equipment.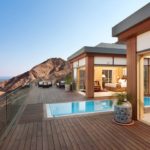 Le Pontet Avignon France
The issue: installation of a tray transporter between a sorting table and a wash area opposite, in the middle of the room.
Validex's Solution: In order to transport the trays through of the tables: a 3-rope conveyor with multiple drop-off zones.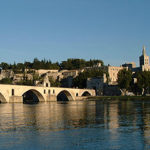 Rochet Blanc holiday center Tignes – France .
The issue: to descend the trays in a very cramped location without modifying the frame.
Validex's Solution: a vertical angle conveyor adapted to the space, safety and hygiene constraints.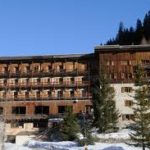 « Park hotel Vitzno – Switzerland.
The issue: to remove the crockery in a listed, protected building, a 5-star establishment with a large seating capacity.  Without any disturbance, noise, or any shocks to the transported objects (luxury crockery).
Validex's Solution:  A Validex vertical conveyor with rigid arm "pater noster" progressive acceleration and anti-shock braking.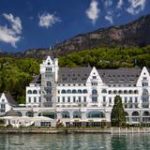 Grands hôtels de Garonne France.
The issue: to take the dishes noiselessly down to a very cramped and inconvenient room.  Departure point situated in the dining room of a luxury establishment.
Validex's Solution:  shortened angle change descenders with light curtain security barriers.