Ministry of Foreign Affairs Algers Algeria

The issue: restaurant located more than 100 m from the washing area.
No possible routes to bring the trays.
Validex's solution: a drop-off conveyor, a "Corbière" elevator and an overhead conveyor hidden in a false ceiling, a helical pallet elevator in the wash area.
Hewlett-Packard Eybens France
The issue: the customer had bought a separate waste treatment system that worked poorly.  No possibility of changing the entire existing system due to a limited budget.
Validex's solution: Replacement of the defective part of the machine. Adaptation of competitors' technology.
Dassault aviation Suresnes France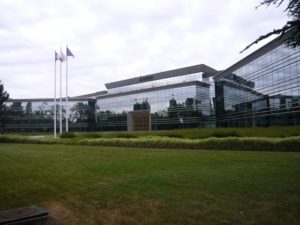 The issue: To bring the trays from the 6th, 4th and 2nd floor down to the washing area in the basement.  Very little space available. The trays must enter lengthwise and exit widthwise in order to reuse the layout of the existing laundromat
Validex's Solution: three «Corbière » descenders (one of which is 18 m long) vertical conveyors fitted with a 90° rotation system for the trays whilst being lowered.
IBM Montpellier France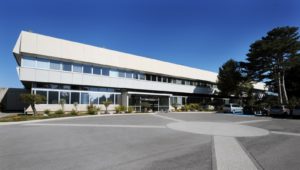 The issue: to replace other suppliers' equipment which have broken down or have disappeared, keeping the dimensions and specifications of the frame.
Validex's Solution:  a pallet elevator, a pallet descender and a pallet conveyor improving capacity without modifying the rest of the structure.